Social Media Marketing
Social Media Marketing is the most powerful marketing strategy in this era. No one can explain the power of social media marketing. It is helps businesses to reach their potential customers, Increase sales, create brand credibility, increase brand awareness and build brand loyalty. A best social media marketing company also helps in boost the website traffic and improve search engine ranking on google, yahoo, Bing etc.
Social Media Marketing is the excellent ways to grow your business, it is the latest and powerful online marketing tactics because there are millions of people using social media platforms. Social Media has lots of advantages to business growth: –
Brand Awareness:  Creating brand awareness is the most important goals of any business, because people want to know better about a brand before action. Social Media has millions of active users so here you can easily and quickly increase brand awareness.
Audience Targeting: Audience targeting is the group of people defined by demographics, Behaviour, and their interest. It means discovering the what kind of people are most likely interested or related to your product or services.
Improve Search Engine Ranking: Social Media Marketing also help in improve search engine ranking (SEO). Social Media engagement and sharing play the main factor of SEO ranking.
Increase Website Traffic: Social Media channels allows you to post content with a link to your website. This link direct land to your website, where they can learn more about your business. Social media ads also ways to drive traffic to your website.
High Quality Leads: Social Media Marketing helps to generate high quality leads for your business. Through the target of right audience, right time and well organized campaign bring high quality leads. High quality lead means higher conversion rate.
Cost Effective: Cost effective is the biggest benefits of social media marketing or online marketing. When you invest in social media marketing, you can easy to track the performance of online advertising.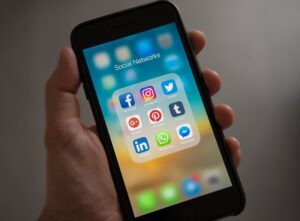 Our Social Media Marketing Services:
Facebook Marketing
Instagram Marketing
Twitter Marketing
LinkedIn Marketing
DudoDigital provide the best social media marketing service. We have an expert team of social media marketer, graphics designer, content writer. We give you the best quality service you can find. We provide well-planned and organized strategy for Facebook marketing for your business. We promote your business according to your specified target audience, locally, socially and globally. Facebook is known as the world largest social media platform, He has more than 2.9 Billion active users worldwide. Instagram is the 2nd largest most engaged social media platform, He has more than 1.2 Billion active users worldwide. LinkedIn is the world largest community of professional's member, It is beneficial for B2B (Business to Business). It helps in reach your idea customer worldwide.